Emily H. Putney, D.O., M.S.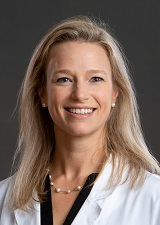 Dr. Emily H. Putney is a board certified orthopaedic surgeon who specializes in advanced surgical care of spinal pathology including but not limited to cervical and lumbar spinal stenosis, disc herniations, sciatica, spondylolisthesis, scoliosis, deformity, post-laminectomy syndrome, failed back syndrome, congenital pathology through minimally invasive and traditional techniques from a variety of approaches.
She attended medical school at New York College of Osteopathic Medicine Of New York Institute Of Technology and graduated with Academic Honors in 2009.   Dr. Putney started her training at the North Shore Long Island Jewish healthcare system in New York, and completed her Orthopaedic Surgical Residency at Broward Health Medical Center in Fort Lauderdale, Florida where she also served as Chief Resident. She performed her orthopaedic spine surgical fellowship at the world renowned Texas Back Institute in Plano, Texas, where her training encompassed the latest innovative techniques in spinal surgery.
Currently, Dr. Putney is a member of North American Spine Society, American Academy of Orthopaedic Surgeons, and the American Osteopathic Academy of Orthopaedics.  In St. Lucie and Martin county, she has pioneered a variety of new surgical spinal techniques including minimally invasive lateral lumbar approach. She has also been the recipient of multiple awards including outstanding paper with invitation to present at the Spine Technology and Educational Group Organization in 2016, Resident of the Year at Broward Health Medical Center of 2014 and the Achievement Award for Outstanding Scientific Paper of the Year for the American Osteopathic Academy of Orthopaedics in 2013.
Dr. Putney and her family enjoy spending time boating and fishing on our beautiful Florida waters.  Coastal Orthopaedic & Sports Medicine Center is excited to have Dr. Emily H. Putney as part of our professional team.  She is eager to offer patients compassion, patience and superior medical care while including each patient in every step of their tailored treatment to achieve the best clinical outcome.